MACON COUNTY— Harness racing at the Macon County Fair made a comeback Saturday afternoon after a five-year hiatus, and 94-year-old Leona Steven, of Tuscola, wasn't going to miss it.
Steven sat with a program in her hand, a hat on her head to shield her from the sun and a packed lunchbox in reach.
She's been a fan of horse racing since 1948, as her husband's interest in the sport rubbed off on her.
The pair traveled to county and state fairs, among other destinations, to follow the horses and see races.
"We also made friends with a lot of the trainers and even the announcer," Steven said.
She said now, she tries to go to Decatur, Champaign and Charleston for horse and harness racing.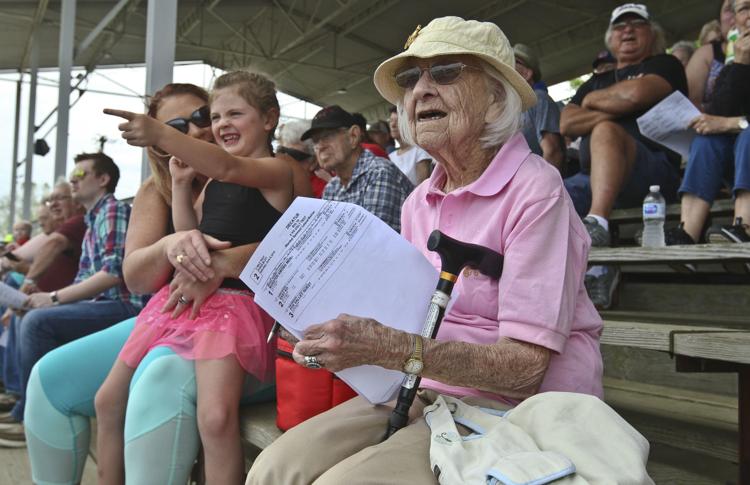 Left to right, Wendy Ackerman, her daughter Camden Ackerman, and 94-year-old Leona Steven watch the second race on Saturday during harness racing at the Macon County Fair. CLAY JACKSON PHOTOS,
Another horse racing fanatic, Darlene Horner, has been around the sport for 40 years and shows Hackney ponies of her own.
Horner had been to the harness races at the Macon County Fair before the five-year gap. She has also been going to the Illinois State Fair for nearly 50 years to watch races.
However, not all attendees of the harness racing Saturday were longtime fans.
Casey King just moved to Decatur from south of St. Louis, and this was her first time being at a harness racing event.
She said she was hoping for "a new experience" with lots of "fun."
Riders sat directly behind the horse on a small seat, with the rider's legs protruding straight out in front of them. The cart they travel on is small with two large wheels.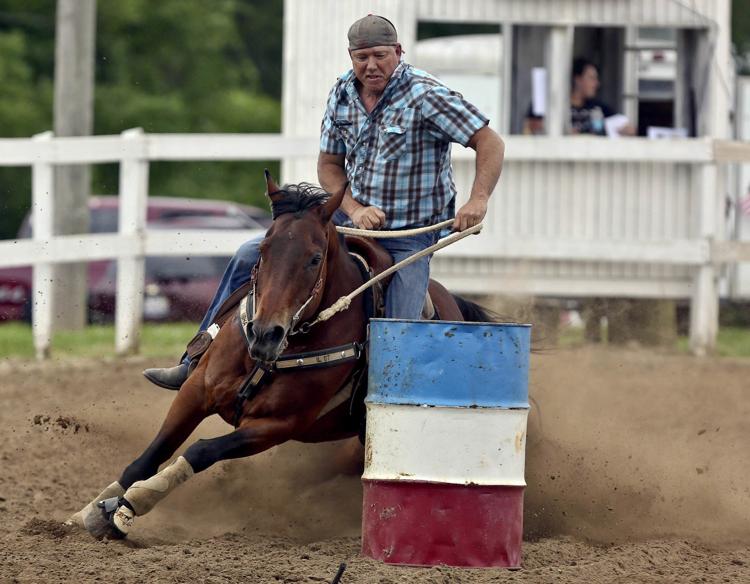 Donnie Drake rides "Trixie" during barrel racing competition on Saturday at the Macon County Fairgrounds. Drake is also president of the Decatur Trail Riders. More photos at herald-review.com
King said the concept reminded her of being in history class, learning about chariot racing during the Roman Empire.
This was also the first harness racing event for Charlotte Ryan, of Decatur. Before Saturday, she didn't realize how many different races there were or how detailed it was going to be.
Mark Wenda, of Decatur, had been to harness racing prior, just not in Macon County. In fact, this was his first time at the fair. He joked he was preparing for when sports gambling would be legalized in Illinois.
A different type of horse show was also going on Saturday at east arena. The Decatur Trail Riders had a pleasure show and a speed show for riders of all ages. The group has been around since 1942, making it the oldest organization of its kind in Illinois.
Kam Aylesworth is entering her senior year of college and has been riding since 4th grade. Her mother Kelly Aylesworth is the secretary of the organization.
Ronnie Gillespie and his horse Tropical Rosie win the first race on Saturday during harness racing at the Macon County Fair.
The pleasure show was at 10 a.m., which was "a little slower, a little fancier," Kelly said. The speed show at 1 p.m. involved barrel and pole races.
"The fastest time wins," she said. Riders can be competitive, and the Macon County Fair speed show gives participants a good opportunity to practice.
Trail Riders President Donnie Drake has been riding horses since the '70s and said the group is trying to promote equine activities.
The Macon County Fair concludes today, with activities that include the demolition derby, which starts at 6 p.m.
By Kennedy Nolen