The McKillop Insurance Brokers Tassie Golden Apple Heats in Launceston Friday night highlights a great weekend of Harness Racing in Tasmania.
But first, we take a look back at the action in Hobart last Sunday where there was plenty of highlights across the nine races staged.
The Stars
Ben Yole – prepared five winners on the Hobart card Sunday night. It was the fourth time in his career that the leading trainer has achieved the feat. Yole without a doubt prepares the state's largest stable. He is eight winners behind where he was at the same stage last season where he ended up with 182 winners in the state.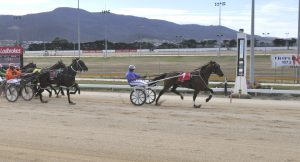 Willybe wins the opening race in Hobart on Sunday.
Andrew Freeman – hadn't driven in a race since June until round one of the 6ty° Youngbloods challenge. A few reasons for his absence were that his father had no horses racing and with the new claiming novice drivers system that was introduced with the new national ratings meant a lot of experienced drivers got their claim back which forced people like Freeman to sit on the sidelines. The 21-year-old has certainly made his presence felt in the series with two winners including The Shallows in heat four in Hobart.
Taylor Ford – is only one-point off Freeman in the 6ty° Youngbloods Challenge and she certainly continued her good run of recent weeks with a driving double on Sunday night.
Ryley Major – warmed up for Friday night's Tassie Golden Apple heats with an effortless win in the free-for-all in Hobart which was his fifth win in a row.
One Yankee Ginga – is a talented Marc Butler trained trotter who won his sixth race in the state in the last race of the Hobart card.
Multiple Winners
Hobart – Sunday evening
Ben Yole – training quintet; Willybe, Quick Changeover, Mach Charm, Give Me The Night and Jeans Mattjesty.
Taylor Ford – driving double: Quick Changeover and Jeans Mattjesty.
Ben Woodsford – driving double; Mach Charm and Streitkid.
Gareth Rattray – driving double; Give Me The Night and One Yankee Ginga.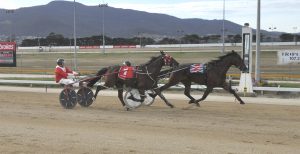 Streitkid wins in Hobart for driver Ben Woodsford on Sunday.
Calculated Sectional Standouts
Quickest last halves (800m) from last week's action.
Hobart – Sunday evening
Chasing Cheetahs 57.04s, Blackbird Power 57.37s, Jeans Mattjesty 57.52s, Bounty Eyre 57.58s and Ryley Major 57.88s.
View all available Tasmanian Sectional Data by clicking here.
Tasracing Official Price
Hobart – Sunday evening
Hit's: The Shallows $2.15 into $2.10, Jeans Mattjesty $9.00 into $8.50 and One Yankee Ginga $1.80 into $1.50.
Defied The Drift: Willybe $2.70 out to $3.00, Quick Changeover $8.00 out to $9.00 and Mach Charm $3.60 out to $3.80.
Missed: Really Ellen $21.00 into $12.00, Finn Mac Kee $21.00 into $13.00 and Macray Muchacho $3.20 into $2.80.
Trial File
Hobart – Monday evening
Last season's two-year-old filly of the year Blame It On Me was back at the trials and was in winning form, scoring in a mile rate of 2m 2.6s.
Doug Nettlefold gave the driving responsibilities to Taylor Ford who took the filly to the lead from barrier two and recorded a lead time of 37.2s before running quarters of 31.7s, 31.8s, 28.5s and 30.1s.
Blame It On Me scored by 25-metres over Sign Of Oro.
Other winners included; Stylish Trend 2m 3.7s and Jaccka Len 2m 9.3s.
Carrick Park – Monday evening
Goggo Gee Gee flew around the Carrick circuit in a mile rate of 2m 0.1s when winning a 59 to 76 rated trial over 2150 metres.
The Rachel Williams trained pacer was driven in the trial by Ben Parker who was able to lead all the way to defeat Bettabrown Tiger by two-metres with Flashy Ruler a further 18 metres away third.
Other winners included; Sunny Sanz 2m 5.8s, Jakes A Joy 2m 5.4s, Auckland Ruby 2m 16.9s, Impulsive George 2m 5.5s, Thatswatilike 2m 4.8s, He Got Rocked 2m 6.5s, Mister Last 2m 7.2s and A Spanish Dance 2m 8.0s.
Week Ahead
Beauty Point brothers Rohan and Troy Hillier will play a strong hand in the heats of the McKillop Insurance Brokers Tassie Golden Apple on Friday night in Launceston.
Rohan trains and drives Ryley Major who will be chasing his sixth win in a row in heat one.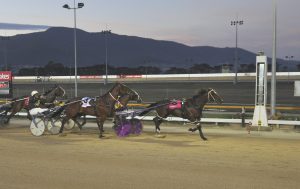 Ryley Major wins again in Hobart Sunday night.
Illegal Immigrant who is trained and driven by Troy looks to be the main fancy in heat two.
The Launceston card also features the final two heats of the 6ty° Youngbloods Challenge.
Hobart is the venue for Harness racing on Sunday afternoon with the first of eight races set down for 13:15.
The last race of the day is a rating 71 to 79 event which has attracted a quality field including Usain Jolt who was fourth to Ryley Major last week, Chasing Cheetahs who recorded the quickest last half on last Sunday's card and the inform Sreitkid who has won two of his past three starts.
Interstate and overseas this week at metropolitan venues some of our Tasmanian representatives include;
AYDC – Tasmania represented by Conor Crook
Alexandra Park – Friday twilight
Race 2 Horse 6 Pekeson.
Black Friday Bash – Tasmania represented by Mark Yole
Wayville (Adelaide) – Friday night
Race 1 Horse 4 Buriton Bailey,
Race 2 Horse 1 Majestic Lustre,
Race 3 Horse 7 The Deal,
Race 5 Horse 4 Artegra,
Race 6 Horse 3 Scrawl,
Race 7 Horse 3 Springfield Desire.
Inter Dominion Grand Final
Alexandra Park, Auckland – Saturday twilight
Race 9 Horse 11 Cruz Bromac.
Menangle – Saturday night
Race 5 Horse 1 No Apachemee and Horse 3 Ignatius,
Race 7 Horse 2 Zhukov Leis.
Duncan Dornauf for Tasracing