A brilliant "handlebars down" battle to the line set up a thrilling Mach Dan victory in tonight's Tasco Petroleum Mildura Pacing Cup, with Emma Stewart's young warrior eclipsing another valiant four-year-old to score.
Leader Silent Major set the pace and was up for the fight, but Greg Sugars and Mach Dan had the answers from the breeze and drew a head clear on the line to claim the $60,000 classic.
"Coming into the bell I thought we will make it a good staying test now over the last lap and we were handlebars down off the back and it was a great duel between both horses up the straight," Sugars told Trots Vision. "Both of them tried their hearts out. Really good contest."
Major Meister initially led but the advance of Stewart runners prompted an early Aaron Dunn response and the trainer-driver guided Silent Major to the front.
Mach Dan and Sugars would soon lob to his outside and the great battle to the line ensued.
Watch the race replay click here!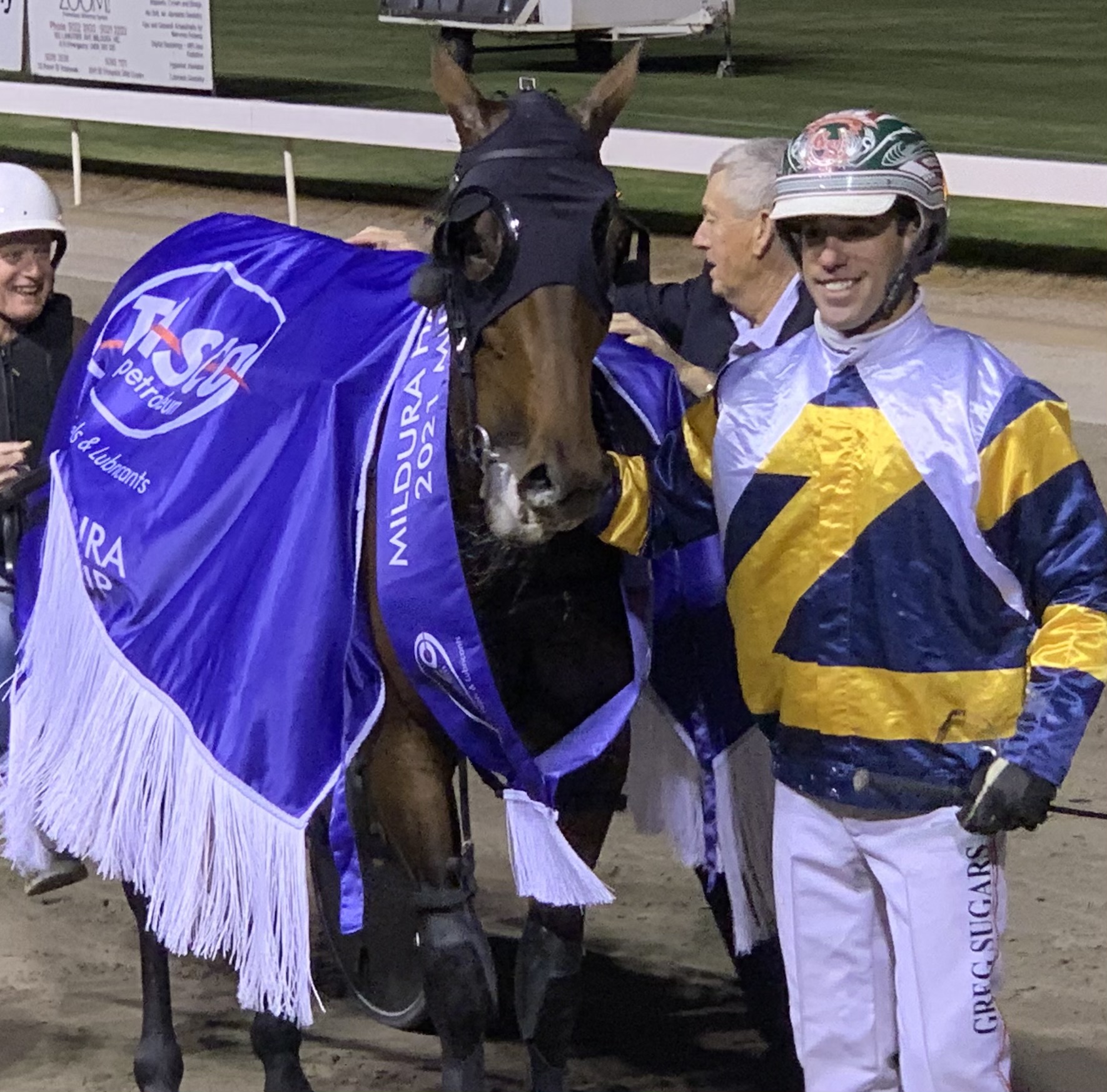 "I have a lot of respect for the leader, he was obviously a very good winner of his heat," Sugars said. "We had a pretty soft heat run and I was hopeful that was enough to turn things in our favour at the end of the day.
"He's such a lovely racehorse Mach Dan. He's very versatile and can probably adapt to any situation.
"He's just got better and better. Emma and Clayton (Tonkin) have done a super job with him. He's such a wonderful racehorse, that's testament to them and the job they do."
Sugars also paid credit to owner Danny Zavitsanos, who purchased Mach Dan off breeders Nixon Bloodstock with his wife Joanne and Warren Viney, and the gelding by Mach Three out of Bettor Give It has rewarded them with 14 wins from 24 starts and now more than $300,000 in winnings.
"Danny's obviously a huge asset to our industry," Sugars said. "He's put a lot of horses on the race track. That's what the sport needs – guys like that. He's a terrific owner to deal with win, lose or draw. He will get a real kick out of this, that's for sure."
HRV - Michael Howard