If catches win matches, then it's increasingly evident that peaches win features with another perfect drive landing the big prize on Saturday night at Melton.
Such is the nature of programming in Victoria these days, particularly with the proliferation of preferential draws, that little more than luck divides the disparate emotions of ecstasy and pain.
And so it was with the Carlotta's Pride Free For All at Group 3 level.
Predicted tactics were reconfigured even before the mobile rolled for Saturday night's major race at Tabcorp Park courtesy of Aldebaran Crescent and Monaro Mia both coming out.
If anything those scratchings looked to aid race favourite Sleepee, who most felt would find a painless lead.
As it turns out, Chris Svanosio had other ideas, comfortably holding the front with Peregrine Phoenix and parking Sleepee in transit.
While that early war was waged however, popular journeyman Michael Bellman was stealthily orchestrating his own race-winning wonders.
Despite starting from gate four, Bellman somehow navigated Moonshine Linda to a perfect trailing position and watched on with glee as a solid speed ensued.
Early in her career Moonshine Linda claimed a juvenile Vicbred Super Series title and claimed the New South Wales Oaks when trailing the leader in transit.
As a result, it was no shock to see her dart through from an identical position to take out another feature success.
None of it was possible however, without Bellman's early tactical brilliance.
XXXX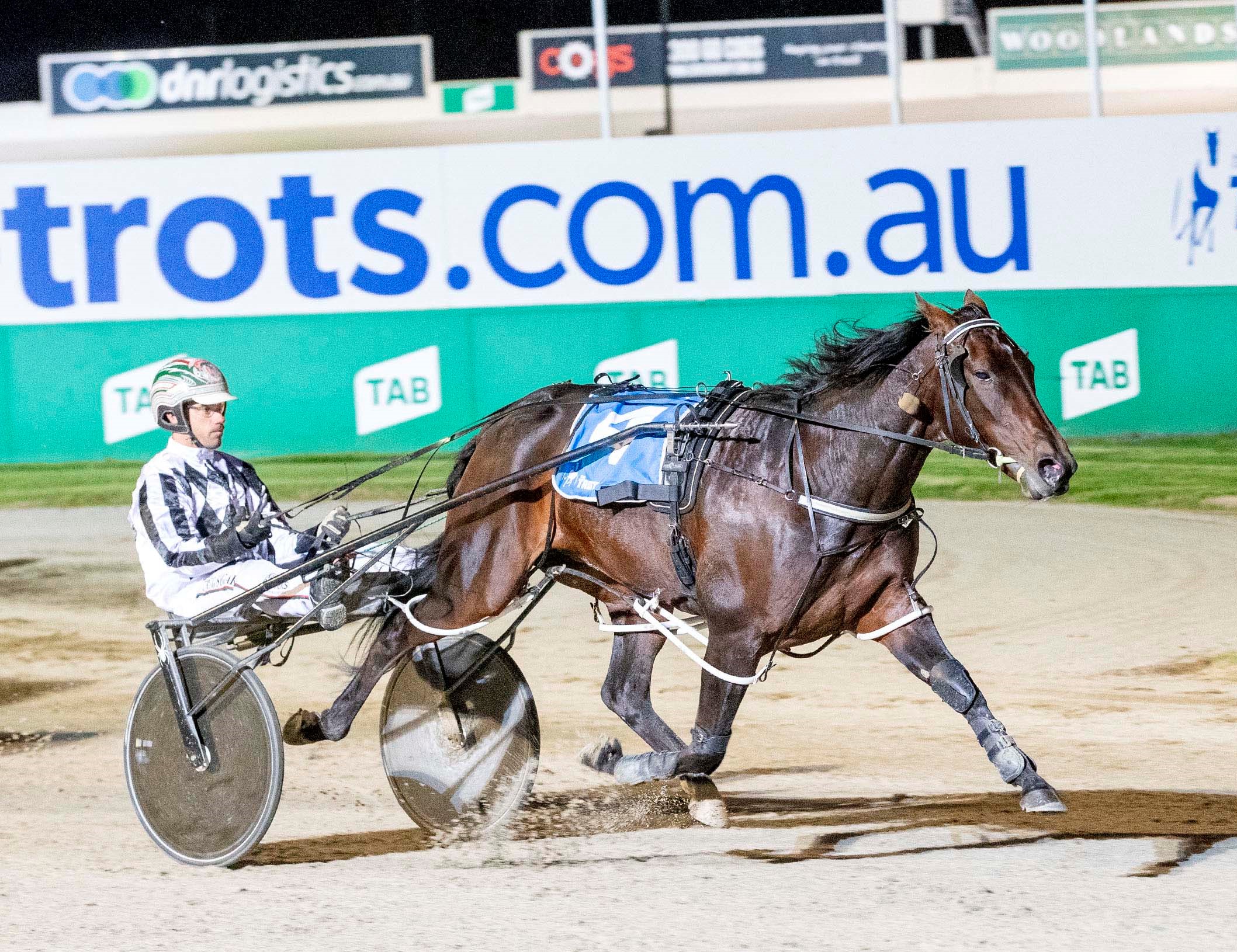 IN racing and sport, some wins mean more than others; and Tangoingwithsierra's first-up success at Melton Saturday night was worth far more than the $11,400 pay-check it yielded.
Before last week few knew that four-year-old mares' trainer Gray Hoban was facing the fight of his life.
One of Victoria's most enduring and popular horsemen has Lymphoma and his diagnosis came just as two star mares from his stable - Tangoingwithsierra and Rockingwithsierra - were set to make racetrack returns.
Along with son Craig, Gary has enjoyed a wonderful ride with fillies bred from another of his gifted mares, Sierra Tango.
But these are dire times, and nothing relieves pain for those that love racing with greater potency than watching a stable favourite salute.
Fortunately, Tangoingwithsierra came to the party and she did so in stunning fashion.
Pre-race there was great conjecture over whether champion reinsman Greg Sugars would lead with the short-course specialist at her first run in 13 months or cross before taking a trail.
From their interviews on Trots Vision however it was abundantly obvious that both Sugars and Craig Hoban felt Tangoingwithsierra was ready for an all-the-way success.
Not only did she fulfil that brief, she recorded the brilliant mile rate of 1:53.1 and all but ensured more wins this campaign will be a most meaningful part of Gary Hoban's therapy in coming weeks and months.
LISTEN TO JASON BONNINGTON WEEKDAYS FROM 11AM-1PM ON TROTS LIFE
HRV - Jason Bonnington