FOR reasons not easily explained racing remains a game of irrational passion.
Despite its often-heartbreaking nature owners, trainers, punters and breeders blissfully chase implausible dreams with laudable optimism.
They also chase iconic experiences, and there are few more hyped harness carnivals than that which concluded on Saturday night in Mildura.
Like Warrnambool, Darwin and Oakbank, Mildura is very much part of racing folklore.
Isolation can often be a drawback in sport but for one week every year Mildura's magnificent remoteness acts as its greatest strength.
They come from everywhere for the Cup carnival.
This year alone Mildura hosted visitors from Western Australia, New South Wales, Tasmania and New Zealand.
And as per usual they didn't disappoint.
Not only was there the perfect weather – at least most of the time – and the carnival parties, the racing, that's right the centrepiece of the package, was utterly sublime.
In total 11 of the 30 races staged over last week's carnival the final margin between first and second was less than a metre.
Among those races were the Niota Bloodstock Mildura Trotters Cup, where Well Defined somehow hunted down Hatchback, and the Tasco Petroleum Mildura Pacing Cup, where Mach Dan prevailed in an epic slugfest over Silent Major.
Then there was the 'King of Mildura' Bernie Winkle, who won Saturday night's free-for-all by the narrowest of margins after somehow refusing to run around a rival up the lane.
In many ways Mildura is a throwback to times gone by; times where half-mile circuits and aggressive tactics paved a clear path to grandstand finishes.
It's also a throwback to carnivals where media, administration, participant and punter met for lunch, dinner, cocktails and golf.
And it's for both these reasons that people keep on coming back.
____________________________________________________________________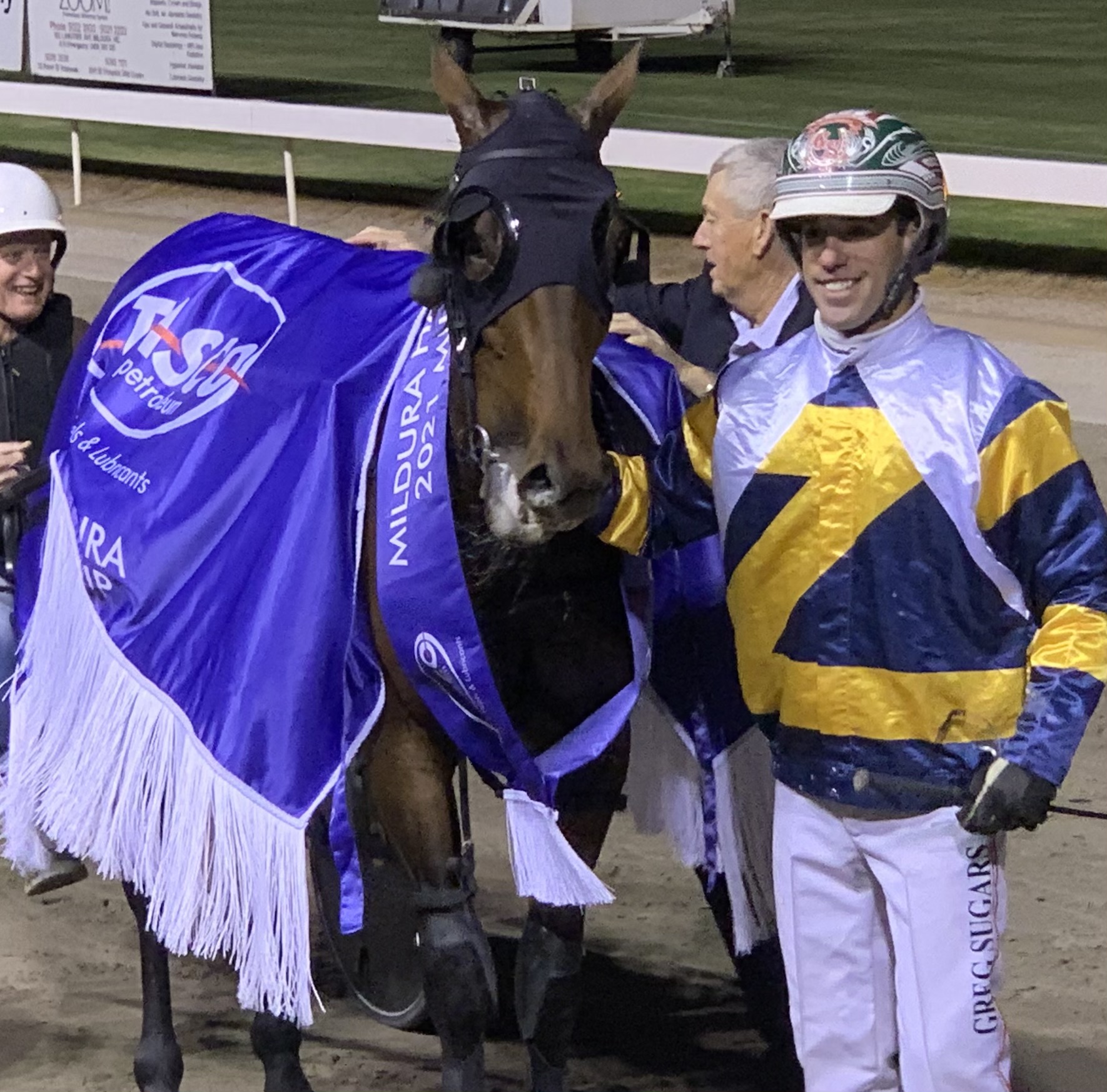 WHEN you've secured as many major race victories as Greg Sugars one wonders what each feature success truly means these days.
Based on his expression after claiming Saturday night's Mildura Pacing Cup with Mach Dan this triumph meant a little more than most.
It's a beautiful sight when someone is so euphorically ecstatic, they're trying not to smile.
In the process of closing their mouths however, that euphoria spreads to the rest of their faces and the joy within is totally obvious.
That was the 'Candyman's' face after his second Mildura Cup success.
Not only was it the perfect finish to a long and draining week for Sugars, but the race itself represented the kind of warrior battle all athletes pine for.
"Coming into the bell I thought we will make it a good staying test now over the last lap and we were handlebars down off the back and it was a great duel between both horses up the straight," Sugars said. "Both of them tried their hearts out. It was a really good contest."
HRV - Jason Bonnington