Victory at Beckley Park in Geelong on Saturday night won't go down as one of Tornado Valley's biggest racetrack triumphs, but it would certainly be one of his most significant.
The Andy Gath-trained champion is set to become the ninth Australasian-bred squaregaiter to reach the $1 million prizemoney mark, with success in the Jack Rabbit Winery Sundons Gift Trotters Free For All enough to tip his earnings into seven figures.
If triumphant, Tornado Valley would join fellow greats Lyell Creek, I Can Doosit, Sundons Gift, Speeding Spur, Take A Moment, Stent, Keystone Del and One Over Kenny as those from this part of the world to achieve the feat. Only Sundons Gift and Keystone Del were trained here in Australia.
As it stands, Gath's charge is a winner of 38 races – 31 of which have been since arriving from New Zealand in 2018 – and $990,297 in cash, a figure that could have been significantly higher had he not had such a dislike for travelling.
"I think he came over with about $60,000 in the bank when he came from New Zealand, so he's won a lot of it here but he's never left Victoria since he's been here," Gath told Trots Talk.
"A lot of those (other million dollar earners) travelled far and wide. Lyell Creek (went) overseas and a lot of those other horses have gone all around the country and around Australasia to pick up the money.
"He's such a bad traveller so we sort of have to leave him here. It's probably been a little bit harder for him to accumulate that type of money.
"It's a great band of horses to be with, but we have still got to get there yet."
Tornado Valley made the trip across the Tasman for new owner Norm Jenkin after seven wins in New Zealand, and didn't take long to make his presence felt here in Australia. He won the Group 1 Australian Trotting Grand Prix at just his third start for Gath, a victory which kick-started a stunning run of success throughout the next 12 months. During that period, Tornado Valley won 19 of 21 starts – including the 2018 Inter Dominion Grand Final – to stamp himself as one of the true stars of the sport.
While he has won this country's biggest trotting race – the Great Southern Star – on two occasions, it was that success in the Inter Dominion that sits above all others for Gath. This is particularly for the fact the horse won the three heats in the space of a week before taking out the $150,000 Group 1.
"You are challenged as a driver, the horse is challenged as well and you are challenged as a trainer to have the horse cherry ripe for all of those races, so that was definitely the highlight for me," he said.
Gath's wife Kate drove the horse in that Inter Dominion Grand Final to become the first reinswoman to win the great race. And like she has for all of Tornado Valley's Australian runs, Kate will again be at the controls this Saturday night.
"I've been very happy with him and his work at home has been top notch. Sometimes it's never that great - sometimes he just sort of goes through the motions - but he seems really at the top of his game at home so you expect him to go pretty well there on Saturday night," Andy said.
SQUAREGAITING STARS
(Highest earning Aus-NZ bred trotters)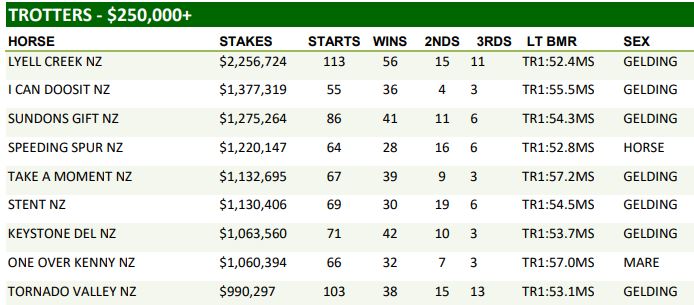 LISTEN TO ANDY GATH ON THIS WEEK'S EDITION OF TROTS TALK: