The four-year-olds came to the fore on Mildura Pacing Cup heats night with Silent Major and Mach Dan succeeding to roll into Saturday's final on winning notes.
Silent Major's toughness held him in good stead in the first heat as he outboxed his rivals in a riveting battle, and then Mach Dan reaffirmed his Cup favoritism with a convincing six-metre win in the second.
They will be joined in Saturday's $60,000 final by Like A Wildfire, Egodan, Major Meister and Assasinator, who finished second to fifth in the first heat, as well as second heat qualifiers Sonny Weaver, Somewhere Secret, Malcolms Rhythm and Bulletproof Boy.
For Silent Major the performance brought an eighth win in 24 starts since joining Aaron Dunn's stable for owner Stephen Blacker and reaffirmed his star quality, having traded blows with favourite Like A Wildfire and succeeded in a brutal affair.
Assassinator produced the early burn for Scott Ewen but the front runner enjoyed little respite after finding the lead, with Kate Gath advancing Like A Wildfire to his outside and then Silent Major pressing the pace three-wide.
Turning it into a survival of the fittest was right in Dunn's playbook.
"He's tough," he told Trots Vision of Silent Major. "I thought I was going to be outside the leader, but when there were a couple of moves in the race I thought 'beautiful'.
"I thought I might get up there beside the favourite, put a bit of curry to him and hopefully out tough him."
And that he did, drawing clear to win by a neck to win in a 1:58.0 mile rate.
"He kept coming," Dunn said. "He probably does lose a little bit on the point of the home turn, (but) he just keeps plugging. The other horse probably died on the run, which helped a bit."
He'll need to be tough again to finish the job on Saturday night, but will be drawn to advantage on his lead rivals.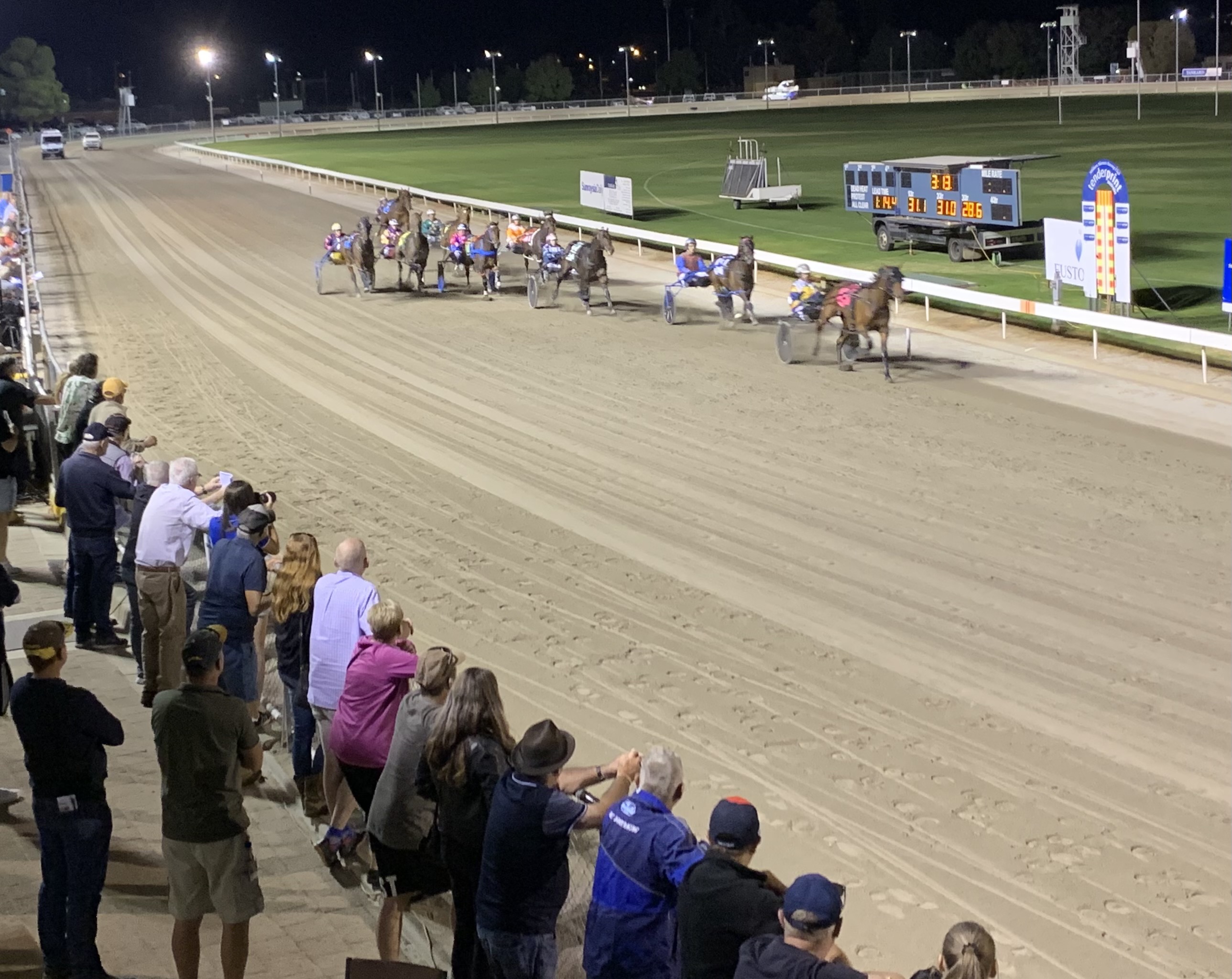 Principle among those is Mach Dan, who Greg Sugars drove with dominant authority in the second heat.
The Emma Stewart-trained Mach Three gelding followed through quickly off the second line, with Sugars maintaining track advantage over his lead rivals and by the end of the first lap he had found the lead with Sonny Weaver on his back and stablemate Somewhere Secret on his outside.
That made for a much slower affair than the opening heat, covering the first 1800 metres almost four seconds slower, with Mach Dan pressing the pace in 28.7s and 27.8s final quarters to gain separation and win by six metres.
"He's an absolute gem of a horse to drive, makes my life a lot easier," Sugars told Trots Vision. "He got a great run through at the start, was able to find the front in the early stages and was too fast in the straight. Very good heat run."
HRV - Michael Howard